News Article | July 28, 2023
Attend TAC's Legislative Conference, Your Connection to the Legislature
County News | Legislative News
Legislative Services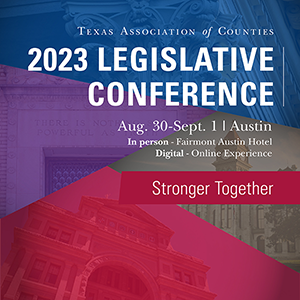 The Texas Association of Counties' 2023 Legislative Conference will take an in-depth, county-level look at what happened during the 88th Legislature. Scheduled for Aug. 30-Sept. 1 in Austin, the conference is a can't-miss opportunity to join hundreds of county officials from every office across the state to discuss the biggest issues facing Texas counties.
Texas Secretary of State Jane Nelson will deliver the keynote address during the conference's opening session on Wednesday, Aug. 30. Ten breakout sessions moderated by members of TAC's Legislative Services team are set for Thursday, Aug. 31. Topics include property taxes, elections, broadband funding, federal and state grant funding for counties and investments in water infrastructure.
The conference will wrap up Friday morning, Sept. 1, with a look at the Legislature's continuing efforts to erode local control.
For the full conference agenda, breakout session overviews and list of speakers and panelists, visit www.county.org/legeconference. Discounted registration rates remain available through Aug. 7.