News Article | July 28, 2023
Travis County Hosts NACo's Annual Conference
County News | Legislative News
Legislative Services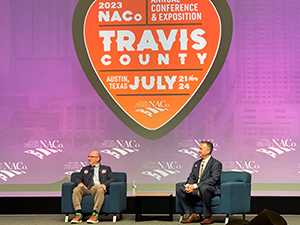 The 2023 National Association of Counties (NACo) Annual Conference and Exposition wrapped July 24 in Travis County with a record-breaking attendance of more than 3,100 participants, including officials representing 60 Texas counties. Nearly two-thirds of Texas' 254 counties – 159 – are NACo members, with 11 Texas counties joining the national organization this year.

Wise County Judge J.D. Clark participates in a
candidate forum for Second Vice President on NACo's
Executive Committee with Commissioner Ron Berry
of Roane County, Tennessee. (Credit: Megan Molleur)

During the conference, Wise County Judge J.D. Clark was elected Second Vice President of NACo's Executive Committee. His opponent, Commissioner Ron Berry of Roane County, Tennessee, was re-elected regional representative of NACo's South Region, of which Texas is a member.

Conference participants attended sessions covering the implementation of the bipartisan infrastructure law, mental health policy, trends in elections, cybersecurity incidents and more.

Tune in to TAC's podcast, Texas County Voice, for additional reporting from this year's NACo gathering.

NACo's 2024 Annual Conference will be held July 12-15 in Hillsborough County (Tampa), Florida.

For more information about this article, please contact Megan Molleur at (800) 456‑5974.