News Article | June 29, 2023
Don't Miss Reduced Registration Rates for TAC's 2023 Legislative Conference
County News | Legislative News
Legislative Services
The Texas Association of Counties' 2023 Legislative Conference will offer county officials and staff a retrospective look at what happened during the 88th legislative session and how it affects county government. The event is scheduled for Aug. 30-Sept. 1 in Austin.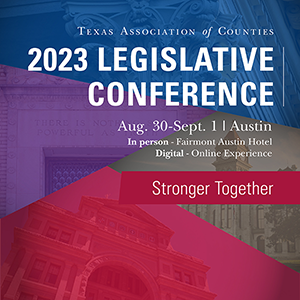 The conference connects hundreds of county officials and staff members with their peers from every corner of the state. Legislators, policymakers, subject matter experts, representatives with the National Association of Counties and exhibitors sharing products and services for counties are also part of the three-day event.
Panel discussions moderated by members of TAC's Legislative Services team form the centerpiece of the conference's schedule. Session topics include property taxes, elections, broadband funding, federal and state grant opportunities and water infrastructure, planning and management.
For a complete conference agenda, session overviews and lists of speakers and panelists, visit www.county.org/legeconference. Discounted registration rates are available through Aug. 7.