News Article | May 12, 2023
Event Examines State's Water Needs
County News | Legislative News
Legislative Services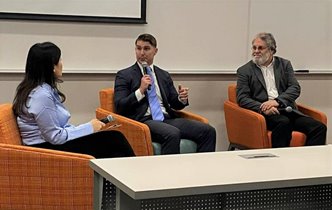 (Credit: Gene Acuna, Texas Association of Counties)
Ector County Judge Dustin Fawcett speaks during a panel
discussion on Tuesday in Midland that addressed water
scarcity and water infrastructure issues in Texas.


The Texas Tribune hosted a panel discussion on Tuesday in Midland on the state's growing water scarcity and the need to invest in water infrastructure. The event, "Broken Pipes: How We Can Keep Water Safely Flowing in Texas," was co-sponsored by the Texas Association of Counties.

Aging pipes, a booming population and climate change represent challenges and threats to the state's water supply, panelists said. Billions of gallons of water are lost each year to broken pipes and leaks across the state – 30 billion gallons of lost water a day in 2021 alone, The Texas Tribune has reported. Boil-water notices are increasingly common. It is estimated that the state will need $61.3 billion in infrastructure investment over the next 20 years to fix its crumbling water systems.

Ector County Judge Dustin Fawcett was one of the event's panelists. The Odessa area has experienced more than 90 leaks in its 60-year-old water lines during the past two years, Fawcett said, with the most catastrophic one occurring last summer when the city's 100,000 residents lost access to water for a week after a valve failed.

Watch a recording of the hourlong event here. To read more about the discussion, visit TAC's County magazine blog.

In addition, the latest issue of County magazine explores the critical role counties are playing in alleviating the state's water crisis. The fall 2022 issue of the magazine detailed El Paso County's efforts to bring water and sewer systems to colonias.