News Article | May 12, 2023
Week in Review: A Digest of What Happened This Week at the Capitol
County News | Legislative News
Legislative Services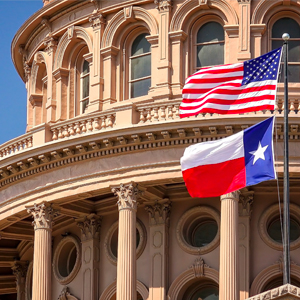 House Takes Historic Removal Action
The weeks-long shadow cast by reports that former Rep. Bryan Slaton (R-Royse City) had engaged in inappropriate behavior with a 19-year-old intern was lifted on Tuesday, May 9, with the House's decisive action on House Resolution 1542. The House General Investigating Committee, chaired by Rep. Andrew Murr (R-Junction), acted on its conclusion that Slaton violated House rules and state law in supplying alcohol and having sexual relations with a teenage staffer in his employ. Murr brought forward the privileged resolution alongside the committee's full membership. Together they delivered a solemn condemnation, explaining that Slaton's day-earlier resignation was insufficient to resolve the matter as the disgraced lawmaker would still be entitled to the authority of his office and continue to draw a salary and state benefits unless expelled. The House resoundingly agreed, expelling its first member since 1927 on a unanimous vote punctuated by a rare statement of support and vote by the presiding officer, Speaker Dade Phelan.
Slaton represented House District 2 in Northeast Texas, which includes Hopkins, Hunt and Van Zandt counties. Gov. Greg Abbott will have to call a special election to determine who will fill the seat.
House Panel Considers Restrictions on County Retirement System
The House Committee on Pensions, Investments & Financial Services met on Wednesday, May 10, to consider Senate Bill 1446 by Sen. Bryan Hughes (R-Mineola), sponsored by Chairman Givovanni Capriglione (R-Southlake). Numerous witnesses offered thoughtful commentary on the potential ramifications of the bill's contemplated restrictions on retirement system investment policy. SB 1446 seeks to regulate environmental and social governance policies, or "ESG" in common parlance. The label describes a corporate policy of intentional divestment or refusal to invest in certain industries. Firearm manufacturers and oil and gas interests are sometimes cited as examples. Affected parties, including spokespersons for the Texas County and District Retirement System (TCDRS), forecast diminished returns due to the potential loss of private equity, the highest returning asset class. The full discussion may be viewed here. The bill was left pending.
County Prosecutors Testify in Senate Committee on State Affairs
Smith County Criminal District Attorney Jacob Putman thanked Sen. Joan Huffman (R-Houston) for her hard work on SB 20 during a hearing of the Senate State Affairs Committee on Thursday, May 11, but emphasized a difference between her bill and its House version, HB 17 by Rep. David Cook (R-Mansfield), that allows a prosecutor the discretion to prosecute if an evidentiary impediment exists. Putman asked the committee to please consider this exception in HB 17 during conference discussions and encouraged the exception to be included in the final draft of the bill.
Legislative Directories Available for Order
Don't forget to order your copy or copies of the Texas Association of Counties' Legislative Directory for the 88th Legislature. The directory includes contact information for TAC's Legislative Services team, leaders and legislative chairs of the county affiliate organizations, members and committees of the Texas House and Senate, and more. Order here.
Week in Review is a collaborative article. For more information, please contact TAC Legislative Services.