News Article | May 19, 2023
Session Topics Set for TAC's 2023 Legislative Conference
County News | Legislative News
Legislative Services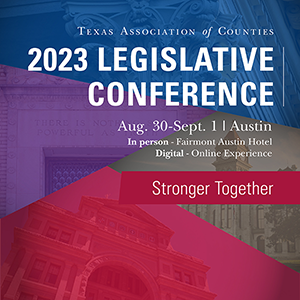 Session topics for the Texas Association of Counties' 2023 Legislative Conference have been announced. Set for Aug. 24-Sept. 1 in Austin, the conference will take an in-depth look at what happened during the 88th Legislature and how it affects county government.
The conference connects hundreds of county officials and staff members with their peers from every corner of the state. Legislators, policymakers, subject matter experts, representatives with the National Association of Counties and exhibitors sharing products and services for counties are also part of the three-day event.
Ten breakout sessions moderated by members of TAC's Legislative Services team form the centerpiece of the conference's schedule. This year's breakout topics:
Bail Reform: A Look at Implementation, the Magistration Process and the Denial of Bail
Mental Health: Confinement, Restoration and Recidivism
Broadband Funding: Helping Counties Bridge the Digital Divide
Grant Funding for Counties: New and Increased Funding Opportunities
ARPA, Year 3: Impact Assessment and Ongoing Obligations
Elections: Standardization and Centralization of Elections
Emergency Management: Texas Water – Too Much or Not Enough? Recent Legislative Investments in Water Infrastructure, Planning and Management, and How Counties Can Prepare to Access Funding
Property Taxes: Boost or Burden?
NACo: Counties' Seat at the Table in Washington, D.C.
Law Enforcement: A Tiered Perspective on the Rural Law Enforcement Salary Assistance Grants
Session speakers will be announced soon along with information about the conference's opening and closing general sessions.
The conference follows TAC's successful hybrid model. Registrants can choose to attend in person or online.
Early bird registration remains available through Aug. 7. The early in-person registration rate is $275. The early virtual rate is $200.
To register and find more information, visit www.county.org/legeconference.