News Article | May 19, 2023
Week in Review: A Digest of What Happened This Week at the Capitol
County News | Legislative News
Legislative Services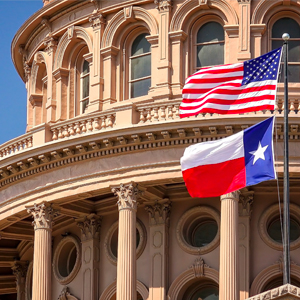 Governor Dangles Threat of Special Session
In response to House changes to Sen. Brandon Creighton's (R-Conroe) Senate Bill 8, Gov. Greg Abbott issued a statement to express his dissatisfaction with the scaled-down version of the school choice initiative. Abbott has advocated strongly for the measure, crisscrossing Texas to promote the concept. His statement declares that "failure to expand the scope of school choice … will necessitate special sessions."
Property Tax Relief Legislation Progresses
This week, the House passed SB 3 by Sen. Paul Bettencourt (R-Houston), this session's priority property tax relief measure. House sponsor Rep. Morgan Meyer (R-University Park) laid out the House's changes to the plan, as made in the House Ways and Means Committee he chairs, detailing the provisions that provide more than $21 billion in property tax relief. The legislation includes $12 billion in immediate relief by cutting school district tax rates by $0.15. The remaining relief is delivered by reducing the appraisal cap from 10% to 5%, and applying it to all properties instead of only for homestead properties, as in current law.
Additionally, SB 3 exempts the first $100,000 of a homestead from being taxed for all homeowners, and $110,000 for seniors or people with disabilities. Per Meyer, the average property tax savings for a $350,000 home under this bill will be $1,325 in 2024 and $1,518 in 2025. There is a provision requiring county tax assessor-collectors to offer escrow account services at the request of a property owner.
The accompanying constitutional authority, Senate Joint Resolution 3 by Bettencourt, was also passed by the House. The Senate passed SB 3 with the reduced tax rate for school districts and homestead exemptions, but did not include appraisal caps or escrow account services. A conference committee will likely be appointed to work out the differences.
County Officials' Advocacy Continues
On Tuesday, members of the Senate Committee on Criminal Justice considered House Bill 2620 by Rep. Charlie Geren (R-Fort Worth). This bill would require the Texas Department of Criminal Justice to transfer felony inmates from county jails to state facilities after no later than 45 days of confinement or reimburse the county for any additional days of confinement. Senate sponsor, Sen. Phil King (R-Weatherford), said this bill was heavily negotiated and that all stakeholders are on the same page. Jim Allison, general counsel for the County Judges and Commissioners Association, thanked Sen. King and the committee for their work on the bill, clarifying it does not cost the state additional funds and ensures there is no burden on local property taxpayers.
Waller County Justice of the Peace J.R. Woolley and Bandera County Justice of the Peace Lynn Holt represented the Justices of the Peace and Constables Association (JPCA) in support of HB 291 by Rep. Andrew Murr (R-Junction) in the Senate Transportation Committee. The Senate sponsor is Sen. Bryan Hughes (R-Mineola). Both judges testified that this legislation is a priority for JPCA as it simplifies the occupational driver's license procedure and corresponding statutes, which provide significant benefits for both courts and applicants. HB 291 was voted favorably from committee.
Woolley also testified in support of HB 2616 by Rep. Cody Vasut (R-Angleton). Sen. Morgan LaMantia (D-South Padre Island) is the Senate sponsor. The legislation amends the Transportation Code to allow for medical examiners and justices of the peace to use emergency lighting equipment on their vehicles in certain circumstances such as a motor vehicle crash where a coroner is needed.
Legislative Directories Available for Order
Don't forget to order your copy or copies of the Texas Association of Counties' Legislative Directory for the 88th Legislature. The directory includes contact information for TAC's Legislative Services team, leaders and legislative chairs of the county affiliate organizations, members and committees of the Texas House and Senate, and more. Order here.
Week in Review is a collaborative article. For more information, please contact TAC Legislative Services.