News Article | May 05, 2023
New Issue of County Magazine Out Now
County News | Legislative News
Legislative Services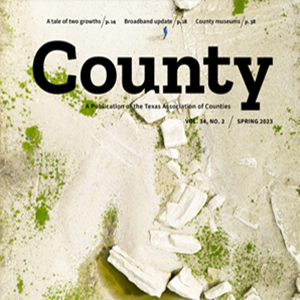 The latest issue of County, the Texas Association of Counties' quarterly magazine, is now available. This issue's cover story takes a deep dive into the water crisis that many counties are facing, exacerbated by persistent drought and aging infrastructure.
Other noteworthy stories in the new issue include:
A tale of two counties' growth: Coke and Kaufman counties rank nationally for economic growth and population growth, respectively.
Putting history on display: County museums are a repository for local history.
Get to know TAC's number-crunching wiz Jacob Leos.
More than a banker: A glimpse into what county treasurers do.
Read these stories and more here.