News Article | December 28, 2022
EAP Webinar Recording Now Available: Problem Solving
Healthy Byte Wellness News | Health & Benefits News
Health & Wellness Support | Health & Employee Benefits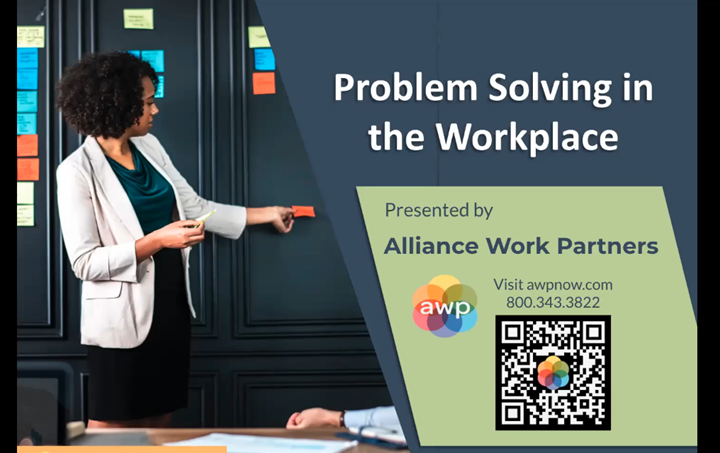 Having a ready formula for tackling all types of issues can help you and your team avoid frustration and stagnation. Learn the steps you can practice to be prepared for any challenge.
View the Problem Solving Webinar recording through Feb. 1.
Topics include:
Analyzing the problem
Getting creative while planning
Taking action, then reviewing
As a reminder, the Employee Assistance Program (EAP) powered by Alliance Work Partners is available to all fully pooled TAC Health and Employee Benefits Pool members and participating ASO members. The EAP is available to assist employees and members of their households who may be experiencing personal life problems, such as marital problems, legal or financial issues, stress, emotional problems, family problems and substance abuse struggles.
All services provided by the EAP are free of charge and confidential.
A toll-free call to (800) 343-3822 starts the process. The EAP's call center is staffed 24 hours a day, seven days a week by professional counselors. Face-to-face counselors also are widely accessible.
Go to www.awpnow.com to create a customized account. Select "Access Your Benefits." Use registration code: AWP-TACHEBP-4661.
Healthy County Employee Assistance Program powered by Alliance Work Partners
Access all benefits by calling (800) 343-3822.
To reach TDD, call (800) 448-1823.
To reach the EAP teen line, call (800) 334-TEEN (8336).
Online: www.awpnow.com | Registration code: AWP-TACHEBP-4661