News Article | November 18, 2022
Tips From Omada on Staying Food-Sane During the Holidays
Healthy Byte Wellness News | Health & Benefits News
Health & Employee Benefits | Health & Wellness Support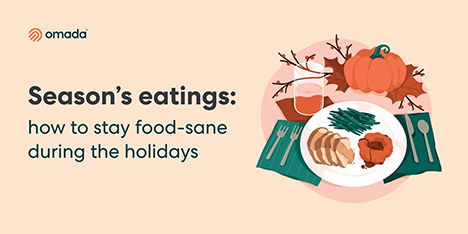 If you're trying to eat healthy, the holidays can be tricky. You don't want to deprive yourself of your favorite foods, but you also don't want to eat excessively. We cooked up a few tips to help you stay sane during the season of eating:
Slow down and chew.
Food satisfaction comes from being hungry because it makes food taste better. But when you're really hungry, you might eat too quickly. Make sure to slow down, chew around 32 times per bite, and enjoy your food!
Food isn't everything.
Food may be a great thing, but it isn't the only thing when it comes to your health around the holidays. Make sure to also manage your stress levels, get enough sleep, and stay active as much as you can.
It's the little things.
Mindless eating is often triggered by visual food cues, which can lead to overeating or unsatisfying food choices. Try serving dinner from the kitchen so that food isn't sitting on the dining table in plain sight, where everyone can see it.
Omada® helps you lose weight, gain energy and improve your overall health, all with a simple app. We'll match you with a health coach you can talk to anytime, anywhere—and you'll never pay a dime.
Take a one-minute risk screener to see whether you're eligible: omadahealth.com/healthycounty.
The Omada program is available to all fully pooled groups and participating ASO groups. Participating ASO groups are Brazos and Comal counties.