LegalEase Continuing Education
Access convenient, relevant training on legal topics specifically tailored to county government. See course offerings below for this on-demand training. The courses are relevant for all county officials, and the trainings are approved for continuing education credit as noted below each course.
Continuing Education and Prerequisites
The V.G. Young Institute of County Government at Texas A&M University is the education co-sponsor for the TAC LegalEase Continuing Education series. There are no prerequisites to attend these programs.
Registration Fee
Each course is $50 per video per viewer. Individuals must register with a unique email address.
Detailed Course Information and Registration
Training Opportunities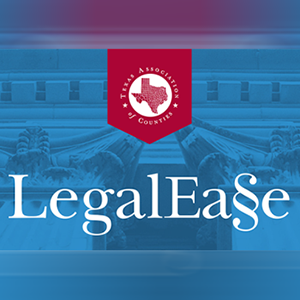 Multiple course offerings are available on demand for continuing education credit.
January 01, 2023 - December 31, 2023
On Demand