Education & Training | July 24, 2023
Texas Judicial Academy
The Texas Judicial Academy's mission is to ensure judicial excellence through providing education and resources for the constitutional county courts of Texas. The Academy is a partnership between the Texas Association of Counties (TAC) and the Texas Tech University School of Law.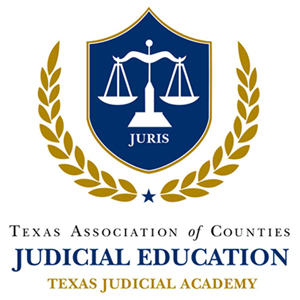 The goals of the Texas Judicial Academy include:
Providing continuing education for judges and court personnel through a wide variety of educational opportunities like seminars, conferences, roundtable discussions and courses
Providing resources for judges and court personnel through annual updating and revision of the County Court Bench Manual
Recognizing judges who exceed the minimum continuing judicial education requirements
Identifying new and emerging social, criminal, administrative and technology trends that affect courts
Fostering and encouraging a dialogue between the bench, bar and the public concerning issues of judicial excellence.
Texas Judicial Academy Staff
The Texas Judicial Academy staff are available to answer your judicial, education and conference-related questions.
For judicial or administrative duty questions, please contact our staff below:
Judicial Hotline: (844) CoJudge or (844) 265‑8343
For questions regarding conference registration, continuing education hours or membership dues, contact TAC Judicial Education Services at (512) 478‑8753 and ask for:
Publications
Education and Training Review the Rules of Education and other guidelines from the Texas Judicial Academy.
Committees
Texas Judicial Academy Committees
Education and Training The County Judges Education Advisory Committee has supported judicial education programs for constitutional county judges.