Nov. 14, 2023

| New County.org Website
What to expect:
Upgraded CMS: New Kentico v13 Xperience backend platform for content management and a new streamlined and mobile friendly website. This includes an upgraded top menu navigation which makes it more user-friendly along with upgraded content mapping which allows everything on our site to be more easily searchable.
—————
Department and user workflows: Certain users in different areas of TAC will be trained on how to properly access the website backend CMS to make simple edits to web pages that require it. These edits will be submitted for review/approval from the Software Team then pushed live as needed. Be on the lookout for more information about these trainings within the next 2 months with additional details to continue to be shared after the rollout as the process gets fine-tuned.
—————
County Information Map: A one stop shop map where anyone can get the location of a county, county seat, population bracket data and find their TAC Representatives.
—————
Event Agendas: Agendas will now need to be created using a spreadsheet that will be uploaded to its respective event. When an updated is needed the spreadsheet will be updated and uploaded to overwrite the previous agenda. This means that the way that agendas display on the website will also be different and mobile friendly. More information and training on this will be provided.



—————
Retention of Content, News article(s) and Press Releases: All of these items and content will drop off the site after 1 year unless it is stated that the information needs to be evergreen.
—————
Event listing retention: All events will be kept up to 6 months after they have occurred unless we are informed that an event needs to remain accessible on the site for a longer period due to a need from counties.
—————
Tabbed content: Member Services pages and events will all use tabbed content to better organize their information. Tabs numbers need to kept to 5 to 6 tabs for member services sections and event layout. Tabs with shorter labels will allow for a 6th tab but we need to kept tab names to one word.
—————
URLs and Short URLS: URLs have changed. Many short URLs from the old site will point to the new page on the new site. But we can still expect a certain number of them from the old site to not work.
—————
Linked Files and Resources: Any saved or bookmarked file on county.org will no longer work, be prepared to receive emails from users that they are looking for a particluarl file URL that they had saved. There is no way to account for every file i.e., PDF, Word, Excel, etc. that lives on county.org to be accessible on the new site.
—————
Linking from Content to Articles: Be mindful of linking to articles from your pages or emails, since articles will only remain on the site for a year you will get 404 errors (missing pages) if people try to access those links after a year. We can upload files that can always accessible but articles will go away after a year. DO NOT link to files on stage.county.org.
—————
Videos: Videos should be uploaded to YouTube and/or hosted on another platform outside of our servers and then embedded in content pages.
—————

Structured content: That means that content (i.e., features and callouts sections) can be used on other pages, sections and areas of the site. Any reused content will share the content, obviously; no matter where it is used on the website and if there is an image it will share the image as well. The aim here was consistency so if we make a copy change to the content it is reflected in all areas that it is used automatically. (See image to the right.)
—————
Tagged and searchable content: We are using a taxonomy that has several ways of tagging content i.e., by service/dept., audience and topic to name a few. That also includes the page or resource name as well. This will give us a usable Resource Library for our members and users to be able to search for whatever they may need in a much more user-friendly way.
—————
Grid or list view: Listing pages i.e., events, grants and articles can be switched between grid or list view.
—————
iMIS: For the time being any page that currently lives on iMIS i.e., member portal and event registrations will continue to be accessible on iMIS.
—————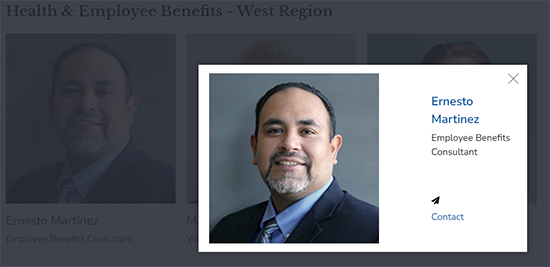 People profiles: The new website will now house people profiles that will allow us to display staff or teams with the option to contact them directly through the website form. No more visible/linked email addresses on the site.
—————
Quarterly Content updates: Content must be reviewed or refreshed every quarter to ensure that all of your relevant pages are up to date. Please assign a "website liason" from your department to to go through your content pages quarterly
—————
Project Requests and Due Dates: Any RoboHead or project request for work in which deliverables are late being delivered to our team this will cause the due date to be pushed out autoimatically to allow time for the work to be prioritized and completed. The original due date cannot be expected.
—————