County Magazine | October 25, 2023
Fighting staff shortages, county dispatch centers 'treading water'
County Magazine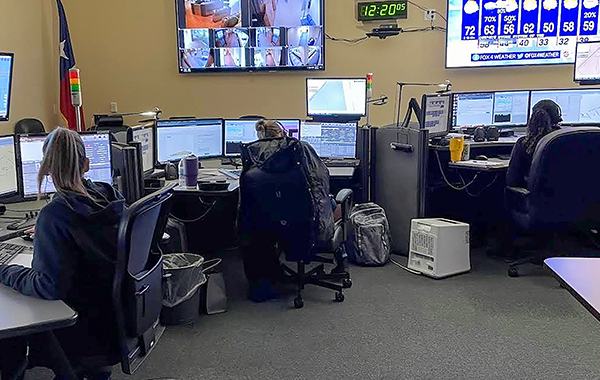 Amid a nationwide shortage of dispatchers and other law enforcement personnel, county leaders are taking creative measures to attract more people to fill the critical role.
Still, the staffing challenges persist, as counties contend with a competitive job market, a lengthy and rigorous hiring process, and a challenging job that takes a "unique personality and skill set," said Tarrant County Sheriff Bill E. Waybourn.
"We're trying to be creative," he said. "We're trying to attract people to it and get them to know that this is an incredibly noble field and that they have an opportunity to serve their fellow neighbors."
Tarrant County recently started offering a $6,500 hiring bonus for dispatchers and raising their pay to be competitive. But Waybourn said that pay is just one part of a three-pronged approach that successfully recruits and retains people. The other parts are having strong leadership and a comfortable, flexible working environment.
House Bill 1486, which went into effect Sept. 1, requires state and local law enforcement departments to allow full-time dispatchers who experience traumatic events to take mental health leave.
"Those people have an incredibly stressful job, so they should be treated incredibly well," Waybourn said.
Similarly, Brazos County offers a $5,000 hiring bonus to dispatchers with experience. Starting in October, the county also will pay dispatchers in training $20 an hour, with the rate rising over time, said Patrick Corley, executive director of the Brazos County Emergency Communications District.
Fortunately, the Central Texas county hasn't been hit as hard by vacancies as some. Corley said the district currently has about three vacancies out of 38 positions. He attributes Brazos County's low number of vacancies to the increased effort the county has put into its recruitment and hiring strategies during the past four years.
Instead of putting an ad in the newspaper, Corley said the county advertises jobs on several websites, including ZipRecruiter and Indeed, social media and at job fairs geared toward law enforcement. But the hiring process often deters many applicants because it takes months and requires extensive information from applicants, including a background check. Corley said out of a pool of 100 applicants, he might get three or four people who meet all the criteria.
"It's a more daunting process than applying for a private sector job," he said.
The training process also weeds out some people because it can last up to six months, Corley said. Brazos County has two hiring cycles a year.
"We're constantly treading water," he said.
Once people make it through the hiring and training process, they face a difficult job that requires working long hours and holidays and talking to people in crisis. Waybourn recalled the stressful situations dispatchers face, such as suicide attempts. One dispatcher was honored nationally for handling a situation that involved a suspect firing more than 150 rounds at officers while barricaded.
"They show up every day, not knowing what that next call is going to be," he said.
Counties have backup systems in place so calls get rolled over to another agency if one dispatch center is overloaded. Waybourn considers it a worst-case scenario when he would have to start "cannibalizing" other departments by pulling officers off the street to answer calls.
"We've got to answer that phone one way or another," he said.