County Magazine | February 13, 2023
Expanding safety culture in San Patricio County
Health & Benefits News | County Magazine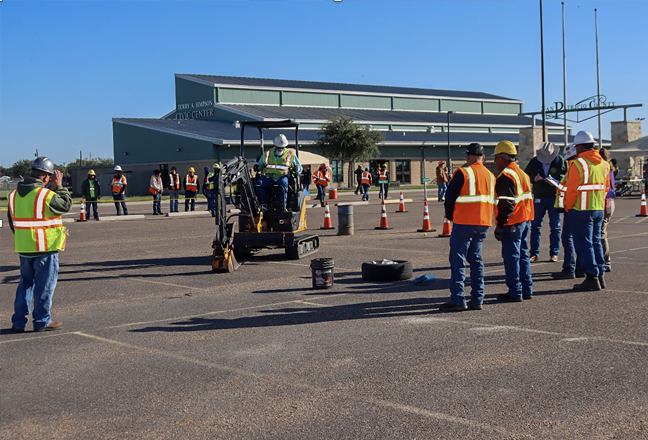 Classroom safety exercises aren't often met with "Go do it! It was fun!" when encouraging others to fulfill their training requirements. However, those phrases were used often by employees finishing up their events at San Patricio County's first Safety Rodeo, held Oct. 19 at the San Patricio County Fairgrounds.
The county reviewed its safety history and designed the full-day event to draw attention to and work on the skills that can help prevent future safety incidents in common categories. Their priorities for training this year were slips, trips and falls, heavy machinery, and vehicle safety.
This is the first safety exercise of this type for San Patricio County, said Safety Specialist Sylvia Marquez. She wanted to create a welcoming and enjoyable environment where county employees could come together to work on important skills, even those they may not encounter at their daily jobs.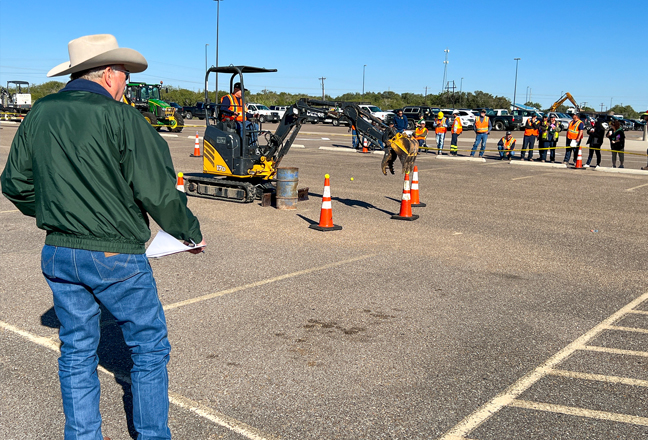 "We need to educate all the employees, whether they work out in the field, or they're driving a car like law enforcement, or they work in the office. Safety needs to be their number one priority," said County Judge David Krebs. "I want them to say that we had fun, we enjoyed it, and we've learned some of the things that we need to work on." Krebs welcomed the idea of the Safety Rodeo after seeing its success in the city of Portland, Texas, while he was mayor.
The spirit of competition was strong, with teams and individuals competing to win awards in six events. Participants navigated obstacles and completed challenges with a mini-excavator, forklift, front loader and backhoe. They also drove a San Patricio County Sheriff's Department vehicle through a challenge course and observed workplace hazards in an indoor environment in the Hazard Hunt.
Outside of the competition, employees could receive flu and COVID-19 vaccinations, practice CPR, learn how to stop bleeding and how to use an EVAC chair. They also visited displays by the San Patricio County Public Health Department; Texas Women, Infants and Children (WIC); and the Gulf Coast Growth Ventures Fire Safety Training trailer.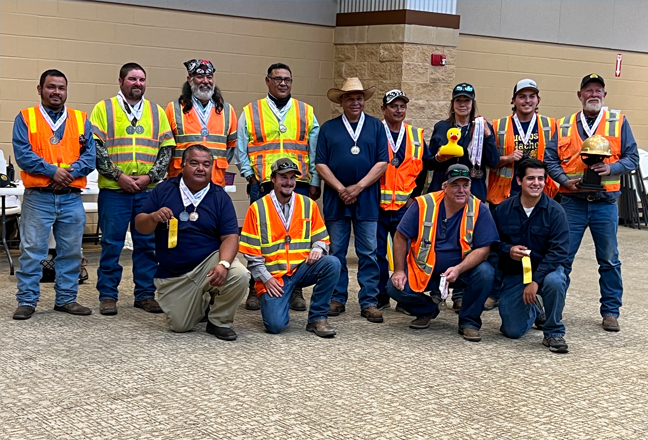 TAC Risk Control Consultant Joe Szewczyk served alongside county employees and elected officials as judges of the event. He praised San Patricio County's focus on safety, including having an employee dedicated to addressing the specific challenges facing the county, allowing them to be nimble in targeting training to specific needs.
Szewczyk stressed the importance of all levels of government being present at the rodeo. "The buy-in that lets the employees know that 'my boss thinks safety is important, so I need to think safety is important' is huge for having a big safety culture," he said.
"It's important that we don't just stick with one method of learning when practicing or focusing on safety. There are different people who learn differently," explained Szewczyk. "This event met all of those."
From county judge to brand-new hire, county employees showed up and participated, and walked away—sometimes with a medal around their neck—knowing that safety is a focus at all levels of San Patricio County.
Written by: Jillian Becquet