Programs | May 09, 2023
Employee Safety Equipment Program
2023 Employee Safety Equipment Program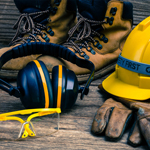 The TAC Risk Management Pool (TAC RMP) Board continues to support its members as they make counties a safer place to work with the 2023 TAC RMP Employee Safety Equipment Program.
This program provides funds to qualified members of the TAC RMP Workers' Compensation (WC) Program to select preapproved safety equipment available in two online stores:
Road and Bridge/Building Maintenance Store
Law Enforcement Store
Equipment available includes a variety of personal protective equipment and more costly safety-related equipment.
The stores will be open June 1-Sept. 1, 2023, and will be hosted by Bullchase. The Road and Bridge store will continue to offer products available through Grainger's Distributor Alliance program that allows Bullchase to provide the same contract pricing available from Grainger's BuyBoard contracts. New this year for law enforcement members is a hosted storefront on the Bullchase website that will feature LE-specific products from several national vendors, including Grainger and Kroll International. Kroll International has more than 35 years of experience as a leading wholesale-only distributor of law enforcement, public safety, military and homeland security products. The changes to the LE storefront will help members purchase products from various LE-related vendors in one location.
Each member has a predetermined spending limit based on their county's employee count in WC Class Codes:
5506 Road Employees-Paving*
9014 Building Maintenance and Janitors
7720 Law Enforcement*
*To qualify for this program, each member must have employees in either of these classes.
Pool coordinators and sheriffs in member counties have been notified of their available funding and provided with store logon information.
Have a Question?
See this FAQ with answers to common questions.
Sign up to attend a webinar about the program
2022 Employee Safety Equipment Program for Road and Bridge, May 3, 10 a.m.
2022 Employee Safety Equipment Program for Law Enforcement, May 3, 1:30 p.m.
Contact TAC RMS Risk Control Services at TAC RCS or (800) 456-5974.