Blog | March 01, 2022
Blog: Davy Crockett monument wasn't originally supposed to be in Crockett County
County Magazine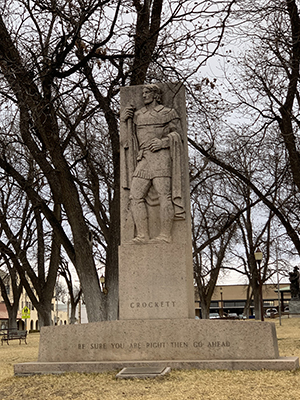 Anchoring the Ozona town square across the street from the Crockett County Courthouse is an imposing effigy of Davy Crockett carved into 20 tons worth of native granite slabs.
It makes sense for the near mythical Alamo hero to reside in the county after which he's named, but it wasn't always supposed to be the case.
TAC County Relations Officer Alan Bristol, who also doubles as our resident Texas history buff, explains that the monument was originally gifted to the city of Crockett, the seat of Houston County, when it was finished in 1936 by Rice University-educated sculptor William Mozart McVey. The monument's completion was supposed to mark the centennial anniversary of Texas' independence, but it wasn't officially displayed until 1938 when the monument was given to the county rather than the city.
Bristol said he believes Crockett County is a better home for the monument than Houston County since Sam Houston did not like Crockett — so much so, that a county wasn't named after Crockett until after Houston died.
TAC Senior Media Relations Strategist Jody Seaborn, another well of Texas history knowledge, adds that Houston's distaste for Crockett stems from the former's alliance with President Andrew Jackson.
On this Texas Independence Day, we recognize history isn't storybook perfect and sometimes heroes don't get along. Even something as seemingly uncomplicated as the placement of a statute in a Texas county can tell that story.