Blog | May 19, 2022
Blog: More support needed for rural health care, panelists say
County Magazine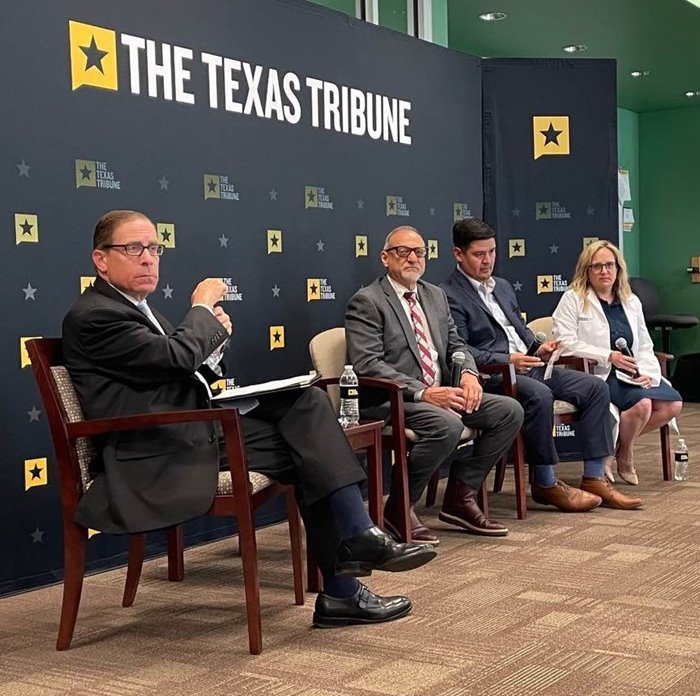 Better broadband access, more investment in building a medical workforce and improved funding are among the things that rural health care officials say are needed to better support their work.
The Texas Tribune, with support from the Texas Association of Counties and other organizations, hosted a panel discussion Wednesday in Temple on the state of rural health care. The bulk of the talk led by the Tribune's CEO Evan Smith was about the pandemic's impact on the rural health system.
The panel, which included representatives from a health authority, a hospital system and a medical school, touched upon the pandemic-induced challenges of implementing telework among providers, setting up case reporting and finding personal protective equipment, as well as the mistrust of vaccinations among some communities.
"We didn't know what we didn't know," said Grady "Sam" Hogue, head of primary care and population health at the Texas A&M College of Medicine, about the immediate response to the pandemic. "We immediately shifted how we're thinking, how we get things done."
Hogue spoke about splitting coverage at his Bryan-College Station hospital, giving employees a week off after a week of work to monitor if they had been exposed. He and his staff were learning new processes, such as properly donning and doffing gowns and protective equipment, which had to be conserved.
While some doctors were able to work from home in other parts of the state, Lorenzo Serrano, CEO of Winkler County Memorial Hospital in Kermit in far West Texas, said insufficient broadband access made telework challenging.
Nearly a million Texans, or approximately 3.4% of the state's population, lack access to broadband in their homes, with 90% of that deficiency spread across rural Texas, according to a 2020 report by the Governor's Broadband Development Council.
"Unfortunately, we quickly learned that it just wasn't going to work, so we switched over just to telephone visits," Serrano said.
Diedra Wuenschel, a doctor of osteopathic medicine at Coryell Health in Gatesville, said some of her staff also had trouble accessing reliable internet service at their homes, although she said some patients enjoyed not having to go in for a medical appointment.
"They would be out on their boat fishing and doing their telemedicine, but it was difficult, especially with some of our older patients who were scared to come in," Wuenschel said.
She said her community was a vaccination hub and accommodated people from out of town, including as far away as Chicago, who needed a shot.
Hogue said communities of color in his area were skeptical of the vaccine. He shared an anecdote about his wife's aunt who is Hispanic and passed away from COVID-19 after refusing to be vaccinated due to religious reasons. He said he spoke to local community leaders who shared that mistrust in the vaccine was rooted in historical medical experiments on Black people.
"So, I get it. African Americans haven't always been treated fairly," he said.
While Wednesday's discussion touched upon the need for better broadband access, panelists also urged better funding.
Serrano said rural hospitals were able to avoid closures because of CARES Act funding from the federal government, but money is starting to run out. Poor insurance reimbursements, dwindling populations and rising health care costs are among the reasons that Texas leads the nation in hospital closures, according to the Texas Organization of Rural & Community Hospitals. Since 2010, 26 Texas rural hospital have closed permanently or temporarily.
"From 2020 to 2021, we experienced about a $4 million decrease in patient care revenue. Not only that, because what oil did, we actually experienced a 9% decrease in mineral property valuations," Serrano said. "The CARES Act supplemented that, but what it did not do is it didn't fix the rural payment inequality."
Serrano said he hopes the Legislature addresses the rural hospital closure, which is also affecting places for medical students to practice.
Hogue said he hopes lawmakers address the dwindling workforce in rural health.
"It's about education. We're not educating and encouraging our rural students to go into health fields," Hogue said.