Blog | June 23, 2022
Blog: Phone scams pervasive in Texas
County Magazine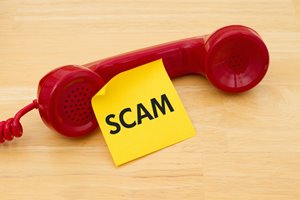 Sheriff's departments across Texas are warning residents to beware of phone calls from con artists impersonating county officials and demanding some form of payment to avoid arrest. In a scam that has been on the rise in recent months, the swindlers have even used the names of actual employees and have left call-back numbers with voicemail recordings that sound like a sheriff's office.
In Potter County, the Sheriff's Office issued a scam alert this month after a man started calling people and saying they would be arrested for not showing up in court. The caller used the name of a real sheriff's lieutenant. The Sheriff's Office warned that it was not making these calls.
If a person or organization asks you to wire them money or buy some type of prepaid card, that's a pretty good indication that you are being scammed, a Sheriff's Office post on Facebook said.
A similar scam was also reported in Kaufman and Hays counties this month. The grifters used the name of an actual employee, and in Hays County, the fraudsters had an automated voicemail that answered with "Hays County sheriff's department warrant and citation division."
In Tarrant County, the Sheriff's Office warned that it does not call residents demanding that they put money on Green Dot cards – a type of reloadable debit card – or gift cards. Nor does the office ask for over-the-phone account transfers to pay outstanding fines or to avoid arrest, WFAA-TV reported. These callers also used a phone number that appears legitimate, the Sheriff's Office said.
In some cases, the scammers may be "spoofing" sheriff's office numbers, KYTX-TV reported. To do so, they use fake caller ID information to mask the true source of an incoming call and to increase the chances that someone will answer their call.
In Nacogdoches County, the swindlers put a twist on the con. They targeted registered sex offenders, warned them that they had active warrants and told them to buy Green Dot cards to avoid arrest. The targets are then told to report to the Sheriff's Office so DNA samples can be collected.
In Williamson County, the District Clerk's Office also had to issue a warning about a jury duty phone scam. People impersonating law enforcement officers were calling residents and threatening them with arrest for missing jury duty, KXAN-TV reported.
The Williamson County District Clerk's Office and the Sheriff's Office urged residents to avoid answering calls from numbers they don't know and to hang up on callers who attempt such scams.