Blog | April 03, 2023
Blog: 2023 CMRC focuses on Mason County's recovery
County Magazine
Employee wellness, keeping county staffers safe, reducing liability claims, and the road to recovery after the devastating Mason County Courthouse fire were among topics covered at another well-attended County Management & Risk Conference.
More than 495 people attended the virtual and in-person conference March 22-24 at Round Rock's Kalahari Resorts & Conventions. The keynote sessions focused on the tragic Mason County Courthouse arson of 2021 and how the leaders have responded and rebuilt since then.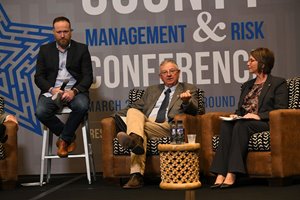 "It's really important that you lean in on each other within your county," said Mason County Judge Sheree Hardin, who spoke on a panel about the courthouse fire. "Embrace those in your community who have God-given talents and abilities that want to help look for the opportunity to unite."
TAC Risk Management Services has been heavily involved in the reconstruction, with staff members visiting the site within hours of the fire and connecting the county to companies that helped with cleanup and rebuilding. The Risk Management Pool has paid an estimated $7 million in funding up front.
TAC's staff has also spent two years filming the reconstruction, debuting a three-video series at this year's conference. The first video gave viewers an emotional glimpse into the immediate aftermath of the fire. The second detailed the steps Mason County took to clean up the debris and start reconstruction, and the third episode discussed the progress so far.
The county hopes to complete reconstruction by late summer.
"The courthouse is set on a different plane, even from a church or synagogue or anything else," retired Mason County Judge Jerry Bearden said during the panel discussion. "It's the respect that is given not just to the building itself, but to the people that work there."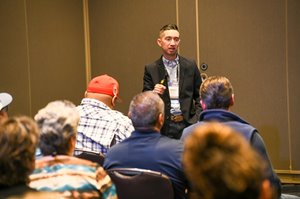 Another popular session focused on grocery chain H-E-B's emergency response during some of the biggest statewide disasters, including Hurricane Harvey in 2017 and the COVID-19 pandemic. Joaquin Jaimes, H-E-B's manager of emergency preparedness, stressed the importance of involving the entire community during disaster planning, including local businesses.
"Look at all the different essential services in your counties as you continue to plan out for emergencies and disasters or for risk management," Jaimes said.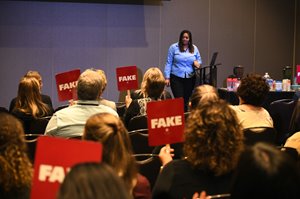 Other session topics included the latest in cybersecurity, how to address the potential of workplace violence and handling media scrutiny during a crisis.
Next year's CMRC will be March 20-24 also at Kalahari Resorts & Conventions in Round Rock.