Blog | April 29, 2022
Texas counties on the mental health front lines
Health & Benefits News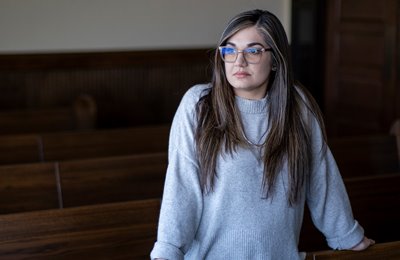 Celeste Helms-Guerra, 30, is looking forward to the day when she's completed what she must do for Midland County's mental health court. The specialty court that connects defendants with long-term, community-based treatment is just one way that some Texas counties are expanding their reach to provide broader mental health services.
"I'm a felon," she said, matter-of-factly. She's a multiple driving while intoxicated (DWI) offender, who spent 10 days in jail in 2019 and was sentenced to five years' probation, along with a $1,000 fine.
Helms-Guerra traces her emotional decline and reliance on substances to childhood trauma when she was 12 or 13 years old. She said her official diagnoses are major depressive disorder and post-traumatic stress disorder. Her substance of choice was alcohol.
"I knew I was depressed but never knew why I was dependent on substances," Helms-Guerra, now an optician, said. "I was completely lost."
Such emotional stories are playing out across the state, as counties are thrust on the front line of what experts know is a challenging road to protect Texans' mental health. No county is spared the demands of mental health services, and counties are facing challenges, including budget restraints, a stretched workforce and a pandemic that has only exacerbated needs. However, officials had been working well before COVID-19 to strengthen those services.
Particularly impacted is the criminal justice system, where an arrest and release often mean offenders are in a revolving door with the courts. Experts say facilitating access to mental health services is the most practical intervention for all.
"For those in a mental health crisis, the jail is not the best and highest place for them," said Smith County Judge Nathaniel Moran. "And, from a taxpayer standpoint, the cost of incarcerating someone with a mental health issue is significantly higher."
Midland County's 238th District Judge Elizabeth Leonard oversees its mental health court, which began in December 2013.
"There was a real need to get psychiatric services in the jail to screen people," she said. "To keep someone in jail costs about $100 a day in Midland County. To go to the state hospital is a minimum of $604 or $750 a day for the state's taxpayers."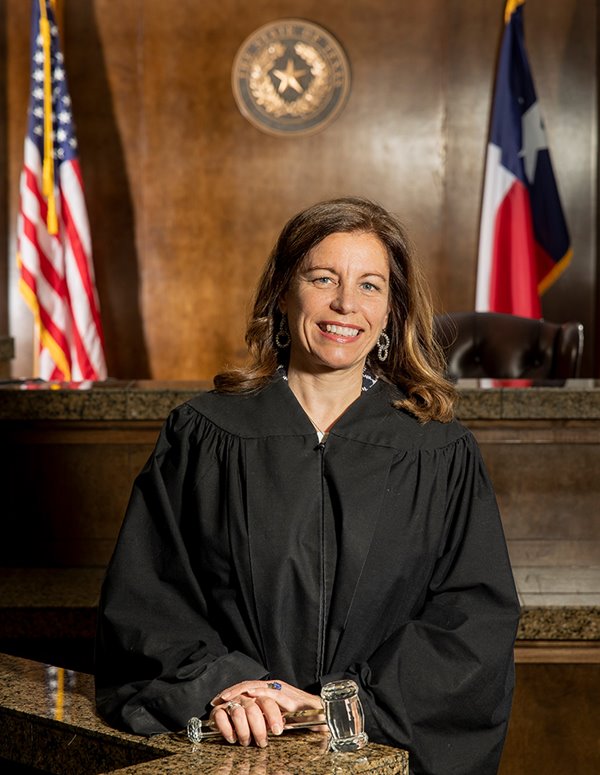 Merging mental health and the justice system
Moran was among the state's leaders appointed in December 2020 for a two-year term on the board for the Judicial Commission on Mental Health, a body created by the Supreme Court of Texas and the Texas Court of Criminal Appeals in 2018.
Now the commission is creating its first mental health court toolkit specifically for Texas. Because such programs vary significantly from court to court and state to state, the toolkit is being designed to encourage more counties to set up a mental health court. According to the commission's website, just 14 of the state's 254 counties have that official designation.
"There have been some phenomenally successful mental health courts in Texas for decades, and our toolkit will highlight the knowledge and tools used by the judges who oversee these courts," said Liz Wiggins, the commission's program manager overseeing the project. "This toolkit will assist counties in implementing a mental health court program, … and it will also help existing mental health courts with expanding and improving their programs."
Although Smith County doesn't have such a court, Moran said expanding mental health services in his county took a turn for the better with the addition of a jail diversion coordinator as part of a commission pilot program.
Smith, along with Denton and Grayson counties, received $171,000 each in September to pay a coordinator's salary, along with travel, supplies and equipment, over two years. "For the first time, we had somebody inside the jail dealing with criminal trial defense and prosecutors and the judge and the defendants themselves," Moran said of Sandra Brazil-Hamilton's role in Smith County.
The Community Diversion Coordinator Pilot Program aims to divert defendants with mental illness who are charged with nonviolent misdemeanor offenses from the criminal justice system. "It's a shift in how law enforcement will work with mental health. We cannot just take them to jail," Brazil-Hamilton said. "This is an effort to get them into treatment."
Services to meet growing needs
Emotional exhaustion from the coronavirus and its variants has been compounded by more recent financial worries because of Russia's attack on Ukraine. As the world approached the two-year mark of a global pandemic, an annual stress survey released in March by the American Psychological Association found Americans reeling — and seeking solace in substances.
Almost two-thirds of the more than 3,000 adults surveyed said it makes them sad to think about the things they have missed. The same percentage said they feel the pandemic has stolen major life moments they will never get back. And, to cope, 42% said that they've relied on unhealthy habits, with almost one-quarter saying they've consumed more alcohol.
Substance abuse is a common thread that officials say accompanies mental health struggles. "A lot of mental health problems arise because of drug abuse, and then they have a permanent mental health problem," said Fred Jackson, associate judge for mental health hearings in Jefferson County.
However, in Central Texas, there's also hope for major change because there are plans for a $9.7 million crisis hub that will give behavioral health a boost. The complex of buildings across six acres in south Waco will offer assorted mental health services, including a 16-bed facility, as well as medical treatment, mental health referrals and counseling. "It's the biggest expansion we've done for a mental health facility probably ever," McLennan County Judge Scott Felton said.
Assorted private foundation support is furthering the effort, and the McLennan County Commissioners Court has approved $3 million of the county's American Rescue Plan Act money to be used for construction. Texas' 254 counties will receive about $5.7 billion to help them respond to and recover from the coronavirus pandemic.
County officials say they're doing the best they can to meet the growing mental health needs, but with insufficient funding, vulnerable Texans end up suffering. The most recent ranking of access to mental health care by the nonprofit Mental Health America has the state dead last at 51st among the states and the District of Columbia. Texas had been 50th in last year's report.
Any infusion of money for counties is welcome. "Funding for mental health is a continuing problem," Jackson said. "We're all hamstrung."
Jefferson County and neighboring counties work closely with Spindletop Center, a community mental-health service provider. Heather Champion, director of business development and quality assurance at Spindletop, said her facility received an additional $130,358 in COVID-19 funding for the current fiscal year to provide more adults and children with mental health services.
A deeper look: Denton County's substance abuse treatment services
Isolation created by the pandemic has only exacerbated substance use among residents of Denton County, which has also increased the use of illegal substances, according to Pam Gutierrez, executive director of the Denton County MHMR Center.
"When you're in pain mentally, I think it's easier to abuse illegal substances because you're going to do anything to alleviate that pain," said Gutierrez, who has 35 years of experience working in Denton County mental health.
Her organization is at the forefront of innovative approaches to support and expand mental health services targeting substance use. Among the more recent efforts are:
★ A federal Substance Abuse and Mental Health Services Administration (SAMSHA) grant through the Department of Health and Human Services for $4 million from February 2021-2023 requires a substance use assessment for those with a dual diagnosis. The center currently serves 85 individuals in an intensive substance abuse outpatient services program and a medication-assisted treatment for opioids.
★ A Texas Health and Human Service Commission grant for the first episode psychosis program — called Compass — serves ages 15-30 and provides a team approach to individuals experiencing an initial episode of psychosis. The original grant served 23 individuals through fiscal year 2021. The center received an additional grant for $300,000 to continue in fiscal year 2022.
★ Denton County Judge Andy Eads and the commissioners provided $200,000 last year — in addition to state funding from the Texas Health and Human Services Commission — to assist in offering inpatient detox services. The 98 individuals are served with $100,000 of county funds. The other $100,000 has been used to help people with a mental health crisis.
★ The city of Denton awarded the center a $347,821 grant over two years called the Three D Project (Denton dual diagnosis), which was slated to begin in April to cover various efforts targeting substance abuse.
Such efforts can make a difference for people in dire need, Gutierrez said. If they're willing to submit to treatment, acting on it immediately is a critical step. Otherwise, they may change their minds, she said.
"Unfortunately, when someone has an addiction and is ready to get help, you have to help them in that moment," Gutierrez said.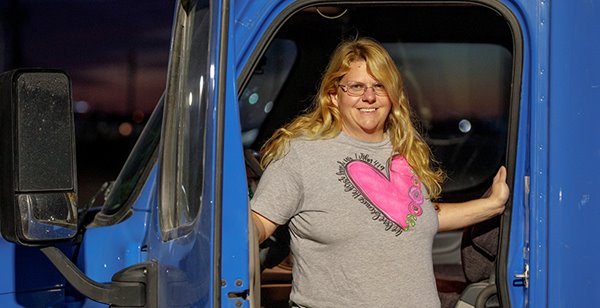 "We were actually working on expanding prior to COVID and regionalizing a lot of our programs so it would be easier for people to go to one stop — instead of having to go to Beaumont if they live in Port Arthur," she said.
"We have been able to increase children's mental health services in those other locations whereas it was primarily out of Beaumont," Champion said. "It makes it easier for families to get access. And we're able to start to increase that initial intake to offer some days and times at the other locations we were not able to do before. We're working on expanding that even more."
A second chance
Helms-Guerra's probation officer advised her about the county's voluntary mental health court program, which takes not less than 12 months. Participants in Midland County must have intensive supervision and regular counseling, must attend substance abuse classes and must submit to testing, among other requirements.
"I was ready for something different," Helms-Guerra said. "I have a family. I just set in my mind that I'm ready to get right and enjoy life together. This can only help. It can't hurt. Truth be told, I needed all the help I could get."
"Our goal is to get you on a path to wellness," said Leonard, the mental health court's judge.
It happened for Lauren Kinsey, 41, a graduate of Midland County's mental health court. She's a truck driver now. In 2017, she received four years' probation for a felony charge of evading arrest with a motor vehicle.
"I ran from the cops and had a police chase," she said. "I got out of a really bad marriage and bad relationship and started having an affair and went for the bad guy."
Kinsey, of Odessa, said her mental health issues started in her early teens.
"I always had major clinical depression and always struggled with that," she said. "I had been prescribed an antidepressant and psychiatric meds, and I wasn't taking them."
At times, she was homeless.
"It was nice to feel like I had people who were there to help me," Kinsey said. "It did change my life. It was those check-ins that were required. The judge showed she cared. So many times, you feel like you fall through the cracks and nobody cares in the judicial system."
Helms-Guerra agrees.
"Once I got regulated on medication and started seeking counseling and was able to pull myself up from drowning was I able to function in society like a normal person," she said. "I know I'm stable and can handle it and make it in the world again."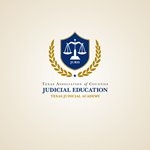 Join us for Texas Counties and Mental Health: Changes and Challenges on July 21-22
According to a recent report from the Texas Judicial Council, approximately one million Texans experience serious mental illness in a given year. The report also noted that up to 24% of Texas inmates have mental health needs. Throughout the state, the responsibility to effectively deal with a rising mental health crisis, as well as shoulder its financial burden, often falls to the court system.
Attendees of this Texas Judicial Academy conference, specifically the judiciary and sheriffs, will learn about the nature of mental illness in the courts and about creating important partnerships and will hear several success stories that could be emulated in other areas.
The conference will be held in Round Rock. Visit www.county.org/calendar for more information, including hotel rates and the agenda.
Written by: Sharon Jayson