Blog | July 29, 2022
The 2024-25 budget cycle – what counties can expect
Health & Benefits News
Texas is one of only four states with biennial budgets and biennial legislative sessions, with a two-year budget expiring on Aug. 31 of odd-numbered years. The Texas Legislature convenes from January to late May of odd-numbered years and enacts a budget for the upcoming two-year period taking effect Sept. 1 of odd-numbered years.
The state budget provides counties with funding for indigent defense, indigent health care, programs that divert individuals experiencing a mental health or substance abuse crisis from county jails, and other services. Many of these services are unfunded and underfunded mandates, requirements placed on counties by the state that result in the expenditure of county property taxes to pay for these requirements.
At this moment in the two-year budget cycle, state agencies that affect county spending requirements are preparing their legislative appropriation requests for the 2024-25 biennium.
Writing and passing a biennial budget
The Texas budget is written and implemented in a two-year cycle. Initial budget development typically starts in even-numbered years during the lead-up to the legislative session. During regular sessions, which occur in odd-numbered years, the Legislature deliberates on and passes the general appropriations act, the budget is certified by the comptroller and sent to the governor, who can veto funding for any item in the two-year budget. The budget is then monitored and adjusted in the interim by the governor and the Legislative Budget Board (LBB). When in session, the Legislature may also consider and adopt a supplemental appropriations bill for the current budget to adjust for overages/savings and reductions and provide one-time funding for new programs and capital projects. Examples of items funded in recent supplemental budget bills that benefit counties: the County Transportation Infrastructure Program ($125 million in the 2019 bill); construction of state mental health hospitals ($445.4 million in the 2019 bill; and $321.3 million in the 2021 bill).

A budget surplus

The Texas economy was hit hard by the double whammy of the coronavirus pandemic and low oil prices, driving down tax revenues. In response, Comptroller Glenn Hegar, the state equivalent of a county auditor and a county treasurer combined, cut the biennial revenue estimate, projecting a $4.6 billion budget deficit for the then current (2020-21) budget in July 2020. There has been a remarkable turnabout since then, culminating in a projected $27 billion surplus available to fund the 2024-25 budget. Chart 2 shows the Comptroller's estimate of ending balances in the state's general operating fund for the two-year budget that ended Aug. 31, 2021, and the current budget that ends Aug. 31, 2023, which most recently is projected to be a $27 billion surplus.
Factors contributing to the turnabout:
Three major federal fiscal relief packages.
Legislative action – the 5% budget cuts and substituting federal relief funds for General Revenue appropriations.
Rebounding state revenue collections – the largest one-year increase in total tax collections, as compared with the prior fiscal year, in Texas history. Hegar said elevated prices due to inflation increased state tax receipts. For more on estimated state tax collections, see Chart 3.
This surplus is in addition to the $13.7 billion fiscal year 2023 ending balance Hegar projects for the Rainy Day Fund. Both ending balances could be reduced by a supplemental appropriations bill for the 2022-23 two-year budget.
County officials do not expect this surplus to reduce the costs to county taxpayers of unfunded and underfunded mandates. The Legislature is not likely to increase state funds to counties still spending down their direct allocation of federal American Rescue Plan Act (ARPA) funds. Some counties' ARPA allocations are five to 10 times as much as their annual budgets.
One area of funding for which counties may expect increasing state support is behavioral and mental health services. These services have been a budget priority since the 85th legislative session, the 2018-19 biennial budget, when the governor and legislative leadership made mental health a top priority (See Chart 4 for funding since fiscal year 2011).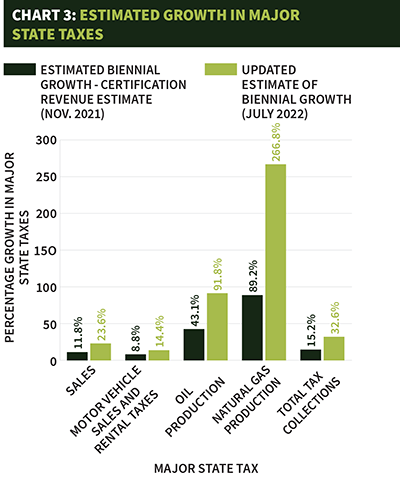 Legislative efforts to adequately fund community mental health, crisis, and transitional services to divert people suffering mental health crises from courts, emergency rooms, and jails will probably continue in the 2024-25 state budget cycle. The county jail system is arguably the largest mental health system in Texas. At a recent joint hearing of the House County Affairs and Corrections committees to discuss the availability of behavioral health services for people in county jails, state correctional facilities, community supervision, or on parole, county officials impressed upon legislators the necessity of more state funding for such services in county jails and pre-trial diversion programs. Efforts to increase funding for state hospitals, where staffing turnover caused a reduction in bed capacity of more than 30%, may also continue. Like the cost of housing inmates awaiting transfer to state prisons, inmates awaiting transfer to state psychiatric facilities represent an unfunded cost to counties.
The budget process is far along, at least regarding agency requests. The legislative session is still several months away. There are still opportunities for county officials to weigh in on funding requests before and during the legislative session. County officials can work with their associations to identify their state budget priorities for the 2024-25 biennium.
For more on the state budget process and its impact on county budgets, go to the Legislative Services State Budget page and follow the process in the County Issues newsletter once the 88th Legislature convenes in January 2023.