Blog | May 31, 2022
Blog: 2022 hurricane season expected to churn out above-average storm numbers
County Magazine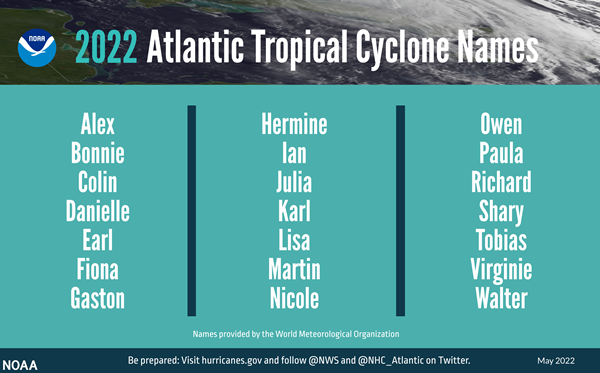 June 1 kicks off the start of hurricane season, with the first of up to 21 named storms expected this year already making landfall in Mexico.
The National Oceanic and Atmospheric Administration predicts a 65% chance of an above-normal season, forming somewhere between 14 and 21 named storms (winds of at least 39 mph) — six to 10 of which could become hurricanes (winds of at least 111 mph).
One of the storms, Hurricane Agatha, already made landfall as a Category 2 storm in southern Mexico on Monday. Setting up the ingredients for a perfect storm, the Gulf of Mexico has already been warmer than average. Hurricane season lasts through Nov. 30.
Twenty-one named storms developed last year. The same La Niña conditions — which cause warm waters and weaker hurricane-destroying winds — that made for a busy season in 2021 continue to fuel this year's batch of storms.
"The increased activity anticipated this hurricane season is attributed to several climate factors," according to NOAA's news release. "An enhanced west African monsoon supports stronger African Easterly Waves, which seed many of the strongest and longest lived hurricanes during most seasons."
Preparation is important, especially since hurricanes can have long-lasting effects. Five years later, Hurricane Harvey is still having an impact on some Texas counties, which County magazine will cover in the upcoming issue.
"Your plans should take into consideration protecting persons and property as well as your response and recovery efforts should your county be impacted," said Clem Zabalza, Texas Association of Counties' Risk Control Manager. "Keep in mind that response and recovery efforts should also include resumption of essential services and county operations such as HR, payroll, and finance.
TAC Risk Management Services has a plethora of information on how to prepare and respond to a hurricane. Consultants stress protecting not only property but also people, who are the most important asset to a county. To find those resources, visit here and don't hesitate to contact your county's consultant.
"Emergency reparedness is not just when a storm is on the horizon but a ongoing effort for every county," Zabalza said.