Blog | July 27, 2023
Blog: TAC wins 14 national communication awards
County Magazine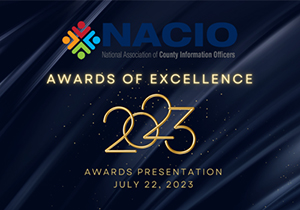 The Texas Association of Counties (TAC) communications department won 14 awards from the National Association of County Information Officers.
Among TAC's awards, announced July 22 in Travis County, included recognitions for a variety of articles and graphics produced for County magazine, the magazine's website, the Texas County Voice podcast and the Newly Elected Officials Welcome Box, among others. The national association's level of recognitions for each category are meritorious, excellence, superior and best in category.
TAC is regularly recognized in the national association's award program each year. Last year, the TAC won six awards.
This year's recognized pieces of work were completed in 2022.
Here is the list of awards:
CATEGORY: Printed Publications – Multi-Page Education BookletCounty Magazine, Spring 2022
AWARD: Excellence

SUBMISSION:

CATEGORY: Printed Publication – Short One-Page/Trifold
AWARD: Meritorious

SUBMISSION: TAC Meet Your CRO

CATEGORY: Electronic Communications – Specialized Websites (Single Issue/Campaign-Focused)County Magazine Website
AWARD: Best In Category

SUBMISSION:

CATEGORY: Writing - Featured Article/Editorial (500-700 Words)County Magazine – Five Years After Hurricane Harvey
AWARD: Meritorious

SUBMISSION:

CATEGORY: Writing - Featured Article/Editorial (500-700 Words)County Magazine – Wounded Responders Retreat
AWARD: Superior

SUBMISSION:

CATEGORY: Graphic Design – Banners/Buttons
AWARD: Best In Category

SUBMISSION: TAC IMIS 101

CATEGORY: Graphic Design – Logo
AWARD: Superior

SUBMISSION: County Elections Academy

CATEGORY: Graphic Design – Special Graphics (T-Shirts, Posters, Etc.)
AWARD: Meritorious

SUBMISSION: Newly Elected Officials Welcome Box

CATEGORY: Graphic Design – Special Graphics (T-Shirts, Posters, Etc.)
AWARD: Excellence

SUBMISSION: Texas County Voice Podcast Ad

CATEGORY: Graphic Design – Special Graphics (T-Shirts, Posters, Etc.)
AWARD: Superior

SUBMISSION: County Magazine – Travis County Remote Work Infographic

CATEGORY: Audiovisual – Medium Length Video (1-5 Minutes)
AWARD: Excellence

SUBMISSION: CIRA Technology Conference

CATEGORY: Podcast EpisodeMarch 24 American Rescue Plan
AWARD: Superior

SUBMISSION: Texas County Voice –

CATEGORY: Podcast EpisodeMarch 10 Mental Health and County Jails
AWARD: Best In Category

SUBMISSION: Texas County Voice –

CATEGORY: Podcast SeriesTexas County Voice
AWARD: Excellence

SUBMISSION: